Study In Singapore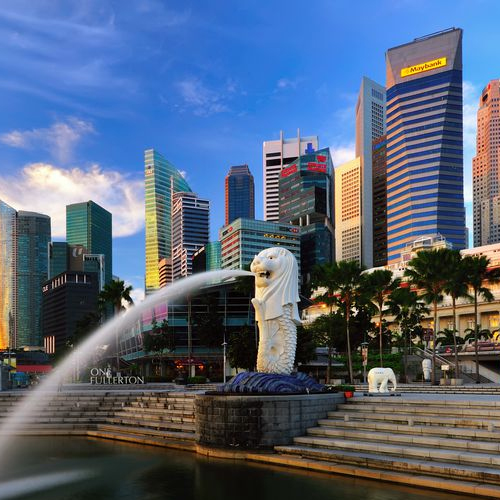 Singapore is an exciting ultra modern city and a financial hub at the Heart of Asia.
It has over the years become a premier education destination which offers students an international perspective and diversity of options. The tuition fee is very affordable and the cost of living is significantly lower than that of many developed countries. But Singapore based universities, colleges and institutes never compromise with the quality of education. In fact, Singapore has some of the best educational institutes in the Asia- Pacific region. The education system of Singapore offers as much a scope and innovation as of any other developed nation.
Singapore strictly prohibits ragging and other kinds of physical and mental abuse, both on or off the campus, making it one of the safest countries in the World. Singaporeans have a very warm and welcoming attitude towards people from other countries. This is one of the main reasons why it is ranked among the top tourist cities in the World. The expatriate community is more than the local community.
Singapore is consistently acknowledged to be a global business hub with its developed infrastructure, political stability and open business policy. It is ranked among the least corrupt countries which makes it a top destination for investors and multinationals. Many reputed organizations from around the world are setting up their offices and branches in Singapore. In a bustling economic such as Singapore, there is no lack of job opportunities in the country for the graduates.
SINGAPORE, the most-loved jewel of Asia, has evolved into a premier education destination with international standards several options yet with affordable tuition fees though being an ultra-mod metropolis.
Singapore strictly prohibits ragging, both, on and off the campus, making it one of the safest countries the world over. The warm and friendly nature of Singaporeans ranks it as one of the top tourist attractions visited repeatedly. The expatriate community is more than the local community
Being a global business hub, with developed infrastructure, least corruption, and open business policy, Singapore has become the favorite of investors worldwide with corporate offices and sister-concerns. Naturally, there exist plenty of job opportunities for graduates.
Singapore Visa & Immigration:
Students planning to pursue studies in Singapore and whose application is accepted by educational institute (valid for 2 weeks) are required to get Student's Pass. Students who require Singapore Visa are required to apply for Student's Visa to the Immigration and Checkpoints Authority (ICA) 2 months before the commencement of the course.
I always wanted to study abroad I had seen the advertisements of many overseas educational consultants and visited many. It was, everywhere, big promises made. The only place where i found the genuine answers to all my queries was Shreedhar International and now I am at my destination.(New Zealand)
Today, i am here in New Zealand, thanks to Shreedhar International. The services that they provide at Shreedhar, is with complete personal attention and intrest for each and every candidate. When I got my enrollment and visa approval, Shreedhar team was equally pleased as my family members. I can say that now I have one more family at Shreedhar International.
With efficient and sincere efforts of Shreedhar International, today I am here at my destination. (New Zealand) It's not only the enrolment and visa; Shreedhar International team also confirms my comfortable stay. "Services" any one can provide, but along with services, who would not wish to have perfect guidance and understanding of a family, as I got from Mr. Biren and his team.
From the day first I have been impressed with the services of Shreedhar International. They helped me getting my student visa for Canada. Being associated with them was a pleasure and like getting assistance from your family.
One of my friend Aditya suggested me to visit Shreedhar International. My experience with shreedhar International has been excellent; as they provided me perfect guidance from staring till end. Today I am studying in one of the best institute of Canada.
Overall support of shreedhar International was magnificent. The staff of Shreedhar is very supportive & caring. I am glad to have an opportunity to write something about them here. I obtained my student visa for Canada with help of Shreedhar and I thank them for all their support.
I always had a dream to study abroad, but i did not have a clue on the way to fulfill my dream. Then I met Mr. Biren patel, at Shreedhar International. And Yes!! There I was at the right place to shape up my dreams. My heartiest to wishes to Mr. Biren and his team at Shreedhar international, because of whom, I am here in Canada.
I and My family will always be thankful to Mr. Biren Patel, and his team at Shreedhar International, to guide me perfectly, clearing all my queries and doubts about overseas education. With their sincere efforts, here I am framing my bright future today I am here in Australia.