IELTS COACHING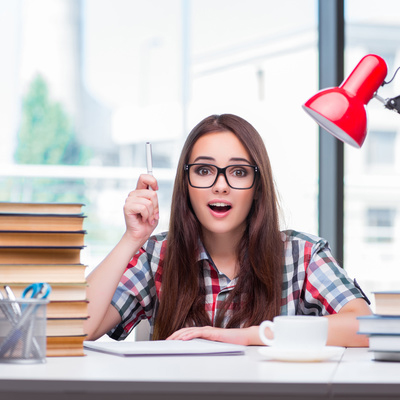 The International English Language Testing System (IELTS) is the world's most popular high-stakes English Language proficiency test for study, work or migration, exceeding three million tests takers pan globe (2018). The IELTS results are recognised by more than 10,000 organisations, including educational institutions, employers, professional associations and governments, over 140 countries worldwide.
IELTS test is paper or computer based, depending takers' convenience. There is no difference in the content, format or level of difficulty between the two options - IELTS Academic for Student Visa and IELTS General Training for Permanent Residence (PR). However, to study only in the UK, there is IELTS UKVI test
---
IELTS test format
IELTS is a test of all four language skills: Listening, Reading, Writing, which is taken in one sitting with no breaks in between. For the Speaking test, book a slot online on a preferred date and time. Fail to choose a slot within the stated time period, a time slot will be automatically allocated. The total test time is under three hours.
| | |
| --- | --- |
| IELTS Listening test (30 minutes) | Listen to four recordings and then answer the questions asked. The recordings are of native English speakers and the duration of the test is 30 minutes. |
| IELTS Reading test (60 minutes) | The IELTS Reading test requiresanswering 40 questions and is designed to test on an array of reading skills, such as read for gist, main ideas, details, logical arguments, skimming, and figuring out the writers' attitudes, opinions and intentions. |
| IELTS Writing test (60 minutes) | The IELTS writing test has two tasks and covers topics of general interest based on the selected module. |
| IELTS Speaking Test (11-14 minutes) | The IELTS Speaking test assesses spoken English skills. The test is recorded and conducted in three parts, usually at a different location than the LRW test. |
---
IELTS test dates
The IELTS test registrations available four times a month or 48 times a year (for paper-based), and are generally held on Saturdays and Thursdays to provide flexibility and convenience to the test seekers; results delivered to view online on the 13th day from the LRW date, but the hard copy for admission is delayed by around another week. The computer-delivered IELTS can be chosen from multiple dates and time slots in a day and results declared within 5-7 days. However, the availability of the IELTS dates may differ as per the test type and module opted for - Academic or General Training.
---
IELTS Exam Formate
Sections
Parts and Number of Questions
Duration
Total Score
Modules
Academic & General Training
-
-
Listening
40 Objective questions
30 Min+10 Min to transfer the answers
-
Reading
40 Objective questions
3 passages - 60 Minutes
-
Writing
GT : Task 1–Letter (150 Words) & Task 2- Essay (250 Words)
AC: Task 1–Report/Graph/Chart (150 Words) & Task 2- Essay (250 Words)
60 Minutes
-
Speaking
11 to 14 Minutes of interview with a trained examiner
Part 1- Introduction,
Part 2-Cue Card
Part 3- General Discussion
-
-
Total Score:9 Bands
---
Highlights of IELTS Exam
Coaching for Academic and General Module.
Training by experienced and trained teacher.
Doubt Solving with Faculty Member.
Proven system and techniques in classroom and online training.
Individual attention to each student.
Tips and strategies for each section and each question type.
Headphones and Tapes for listening Comprehension.
Daily and weekly assessment of every student in all four sections of IELTS.
Mock tests on every week.
Interactive teaching of Grammar
Help with vocabulary
I always wanted to study abroad I had seen the advertisements of many overseas educational consultants and visited many. It was, everywhere, big promises made. The only place where i found the genuine answers to all my queries was Shreedhar International and now I am at my destination.(New Zealand)
Today, i am here in New Zealand, thanks to Shreedhar International. The services that they provide at Shreedhar, is with complete personal attention and intrest for each and every candidate. When I got my enrollment and visa approval, Shreedhar team was equally pleased as my family members. I can say that now I have one more family at Shreedhar International.
With efficient and sincere efforts of Shreedhar International, today I am here at my destination. (New Zealand) It's not only the enrolment and visa; Shreedhar International team also confirms my comfortable stay. "Services" any one can provide, but along with services, who would not wish to have perfect guidance and understanding of a family, as I got from Mr. Biren and his team.
From the day first I have been impressed with the services of Shreedhar International. They helped me getting my student visa for Canada. Being associated with them was a pleasure and like getting assistance from your family.
One of my friend Aditya suggested me to visit Shreedhar International. My experience with shreedhar International has been excellent; as they provided me perfect guidance from staring till end. Today I am studying in one of the best institute of Canada.
Overall support of shreedhar International was magnificent. The staff of Shreedhar is very supportive & caring. I am glad to have an opportunity to write something about them here. I obtained my student visa for Canada with help of Shreedhar and I thank them for all their support.
I always had a dream to study abroad, but i did not have a clue on the way to fulfill my dream. Then I met Mr. Biren patel, at Shreedhar International. And Yes!! There I was at the right place to shape up my dreams. My heartiest to wishes to Mr. Biren and his team at Shreedhar international, because of whom, I am here in Canada.
I and My family will always be thankful to Mr. Biren Patel, and his team at Shreedhar International, to guide me perfectly, clearing all my queries and doubts about overseas education. With their sincere efforts, here I am framing my bright future today I am here in Australia.